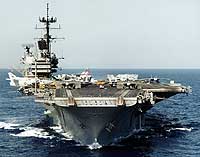 The fifth Saratoga (CV-60) was laid down on 16 December 1952 by the New York Naval Shipyard, New York City, N.Y.; launched on 8 October 1955; sponsored by Mrs. Charles S. Thomas; and commissioned on 14 April 1956, Capt. R. J. Stroh in command.
For the next several months, Saratoga conducted various engineering, flight, steering, structural, and gunnery tests. On 18 August, she sailed for Guantanamo and her shakedown cruise. On 19 December, she reentered the New York Naval Shipyard and remained there until 28 February 1957. Upon completion of yard work, she got underway on a refresher training cruise to the Caribbean before entering her home port, Mayport, Fla.
On 6 June, President Dwight D. Eisenhower and members of his cabinet boarded Saratoga to observe operations on board the giant carrier. For two days, she and eighteen other ships demonstrated air operations, antisubmarine warfare, guided missile operations, and the Navy's latest bombing and strafing techniques. Highlighting the President's visit was the nonstop flight of two F8U "Crusaders," spanning the nation in three hours and twenty-eight minutes, from the Bon Homme Richard (CVB-31) on the west coast to the flight deck of the Saratoga in the Atlantic.
The carrier departed Mayport on 3 September 1957 for her maiden transatlantic voyage. Saratoga sailed into the Norwegian Sea and participated in operation "Strikebaek," joint naval maneuvers of the North Atlantic Treaty Organization countries. She returned briefly to Mayport before entering the Norfolk Naval Shipyard for repairs.
On 1 February 1958, Saratoga departed Mayport for the Mediterranean and her first deployment with the Sixth Fleet. From this date through 31 December 1967, she was to spend a part of each year in the Mediterranean on a total of eight cruises. The remainder of the time, she either operated off the coast of Florida or was in port undergoing restricted availability.
While deployed with the Sixth Fleet on 23 January 1961, a serious fire broke out in Saratoga's number two machinery space which took seven lives. The fire, believed caused by a ruptured fuel oil line, was brought under control by the crew, and the ship proceeded to Athens where a survey of the damage could be made.
On 2 January 1968, Saratoga sailed for Philadelphia and an overhaul and modernization program which was to last 11 months. On 31 January 1969, she departed Philadelphia for Guantanamo, via Hampton Roads and Mayport, and extensive refresher training of the crew and air detachments.
On 17 May, Armed Forces Day, she was the host ship for President Richard M. Nixon during the firepower demonstration conducted by Carrier Air Wing Three in the Virginia Capes area. On 9 July, she departed Mayport for her ninth Mediterranean deployment. Underway, a Soviet surface force and a "November" class submarine passed in close proximity, en route to Cuba. Off the Azores on 17 July, Saratoga was shadowed by Kipelovo-based Soviet aircraft. They were intercepted, photographed, and escorted while in the vicinity of the carrier. She operated with Task Group 60.2 of the Sixth .Fleet in the eastern Mediterranean during September in a "show of force" in response to the large build-up of Soviet surface units there, the hijacking of a Trans World Airlines plane to Syria, and the political coup in Libya. Numerous surveillance and reconnaissance flights were conducted by Carrier Wing Three aircraft against Soviet surface units, including the carrier Moskva, operating southeast of Crete. Saratoga operated in this area again in October because of the crisis in Lebanon. She returned to Mayport and the Florida coast from 22 January until 11 June 1970 when she again sailed for duty with the Sixth Fleet.
On 28 September, President Richard M. Nixon and his party arrived on board. That night, word was received that Gamal Abdul Nasser, President of the United Arab Republic, had died; an event that might plunge the entire Middle East into a crisis. The intelligence and communications personnel of the Saratoga were required to supply the President, Joint Chiefs of Staff, and the Secretaries of State and Defense with the essential intelligence information to keep them abreast of the deteriorating situation. The Presidential party departed the ship the next evening, and Saratoga continued on patrol in the eastern Mediterranean until she sailed for the United States on 2 November. From her arrival at Mayport until 10 March 1971, she was in a "cold iron" status. She then operated off the Florida coast until 7 June when she departed for her eleventh deployment with the Sixth Fleet, via Scotland and the North Sea where she participated in exercise "Magic Sword II." She returned to Mayport on 31 October for a period of restricted availability and local operations.
On 11 April 1972, Saratoga sailed from Mayport en route to Subic Bay, P.I., and her first deployment to the western Pacific. She arrived in Subic Bay on 8 May and departed for Vietnam the following week, arriving at "Yankee Station" on 18 May for her first period on the line. Before year's end, she was on station in the Tonkin Gulf a total of seven times: 18 May to 21 June; 1 to 16 July; 28 July to 22 August; 2 to 19 September; 29 September to 21 October; 5 November to 8 December; and 18 to 31 December.
During the first period, Saratoga lost four aircraft and three pilots. On the plus side, on 21 June, two of her "Phantoms" attacked three MiG 21's over North Vietnam. Dodging four surface to air missiles, they managed to down one of the MiG aircraft. Saratoga's planes attacked targets ranging from enemy troop concentrations in the lower panhandle to petroleum storage areas northeast of Hanoi. On her second line period, she lost an F-4 to enemy fire northeast of Hanoi with the pilot and radar intercept officer missing in action. During this period, her aircraft flew 708 missions against the enemy.
On 6 August, Lt. Jim Lloyd, flying an A-7 on a bombing mission near Vinh, had his plane shot out from under him by a SAM. He ejected into enemy territory at night. In a daring rescue by helicopters, supported by CVW-3 aircraft, he was lifted from the midst of enemy soldiers and returned to the Saratoga. On 10 August, one of the ship's CAP jet fighters splashed a MIG at night using "Sparrow" missiles.
During the period 2 to 19 September, Saratoga aircraft flew over 800 combat strike missions against targets in North Vietnam. On 20 October, her aircraft flew 83 close air support sorties in six hours in support of a force of 250 Territorials beleaguered by the North Vietnamese 48th Regiment. Air support saved the small force, enabled ARVN troops to advance, and killed 102 North Vietnamese soldiers. During her last period on station, Saratoga's aircraft battered targets in the heart of North Vietnam for over a week.
Saratoga departed "Yankee Station" for Subic Bay on 7 January 1973. From there she sailed for the United States, via Singapore, and arrived at Mayport on 13 February 1973. As of 1 January 1974, Saratoga was on active duty with the Atlantic Fleet.
Saratoga received one battle star for service in the Vietnamese conflict.
Through the rest of the 1970s, Saratoga crossed the Atlantic regularly to visit the Mediterranean. In September 1980, following her sixteenth Sixth Fleet cruise, she began a massive "SLEP" reconstruction. This work was completed in February 1983, and the next year saw her back in the Med for tour number 17. During her next deployment, in October 1985, Saratoga's aircraft intercepted an airliner carrying terrorists who had recently hijacked the cruise ship Achille Lauro, forcing the plane to land in Italy. In 1986, the ship took part in combat operations against Libyan forces at sea and ashore.
In August 1990, Saratoga steamed through the Mediterranean and passed through the Suez Canal to operate in the Red Sea as part of the response to Iraq's invasion of Kuwait. The first two months of 1991 saw her aircraft participating vigorously in operation "Desert Storm", which broke the Iraqi army and forced it out of Kuwait. Two more Sixth Fleet deployments rounded out the carrier's active career, one in 1992 and the other in 1993-94. Both involved air activities over the Balkans, in an effort to restrain the brutal war in Bosnia. Departing the Mediterranean for the last time in June 1994, the ship began preparations for inactivation.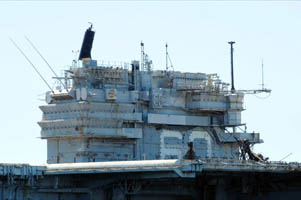 USS Saratoga was placed out of commission and stricken from the Naval Vessel Register at the end of September 1994. After resting at Philadelphia, Pennsylvania, from mid-1995 to mid-1998, she was towed to Newport, Rhode Island, where she remains in Navy custody pending final disposal.
History quoted from Naval Historical Center